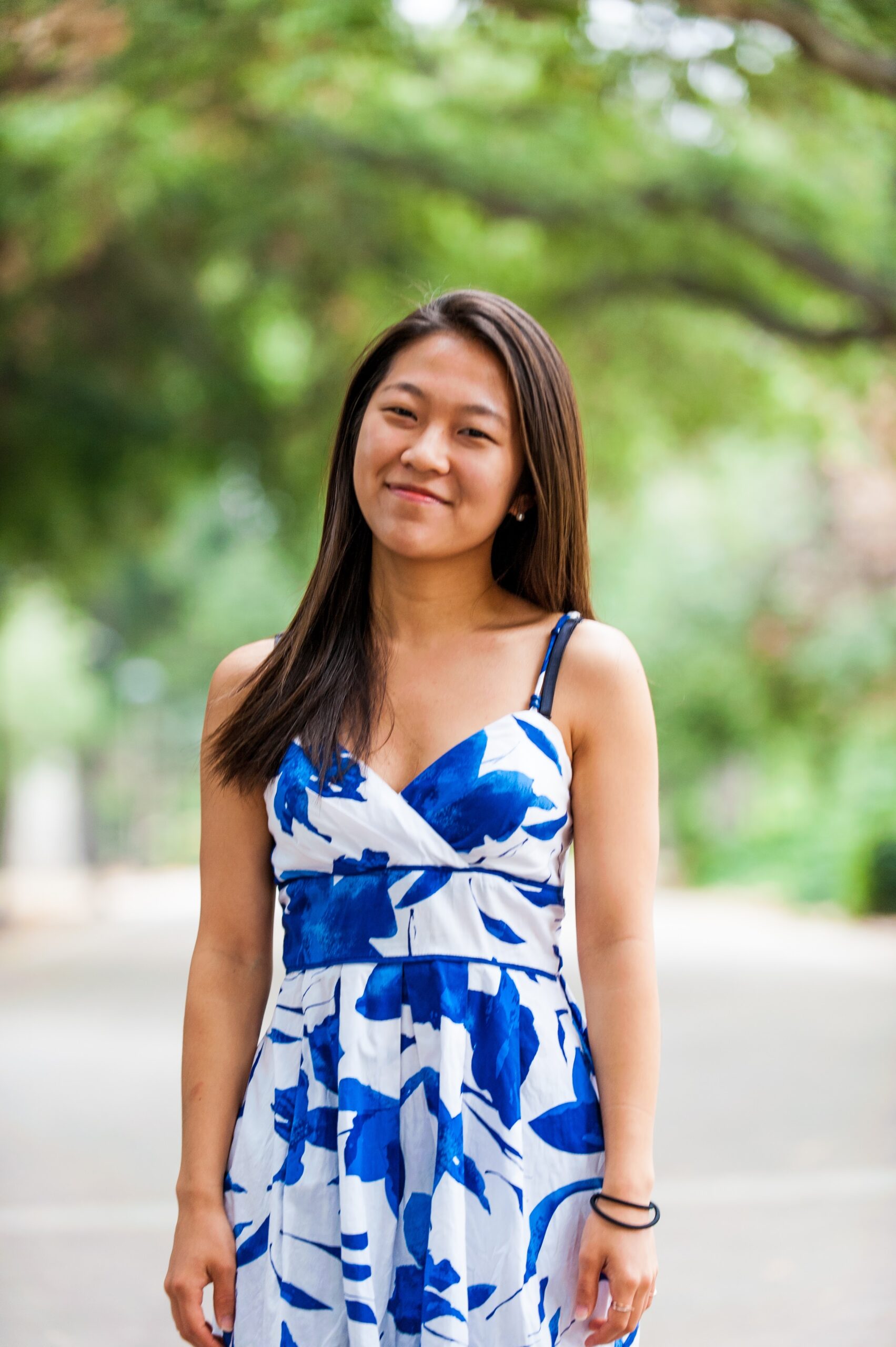 Currently, Kajung is an upcoming fourth-year PhD student in the SDSU/UCSD Joint Doctoral Program in Clinical Psychology. Kajung Hong hails from Seoul, South Korea. As an undergraduate, Kajung came to the U.S. and attended Pomona College at Claremont CA where she received a BA in Psychology in 2016. Kajung worked at University of California, Irvine for three additional years working as a research coordinator at The Health, Relationships, and Intervention Lab (THRIVE). In that role, she helped coordinate research projects investigating associations between parent-child relationship, attachment, physiological regulation, and psychopathology among community sample. She also worked at the residential treatment center with youth who have histories of trauma including child maltreatment and serious mental health problems. In 2019, Kajung began her doctoral work in clinical psychology, with concentrations in child psychopathology and quantitative methods. While she works toward earning her PhD in clinical psychology, Kajung is also completing a master's degree in public health, with a focus in health promotion and behavioral science.
Research foci: parent-child relationship, developmental psychopathology, psychophysiology, long-term outcomes of childhood adversity on adult functioning and parenting
Research interests
Kajung's research focuses on how exposures to adversity during childhood (e.g., abuse, neglect, family dysfunction) impacts youth's socioemotional and cognitive development across the lifespan. Some of Kajung's specific research interests include understanding the impact of histories of child maltreatment on youth psychopathology, adult functioning, parenting behaviors, and parents' and children's psychophysiological reactivity/regulation. Additionally, Kajung's hope to use her public health education to ultimately conduct community-engaged participatory research in order to disseminate and implement evidence-based parent-child relationship interventions for families at risk of child maltreatment.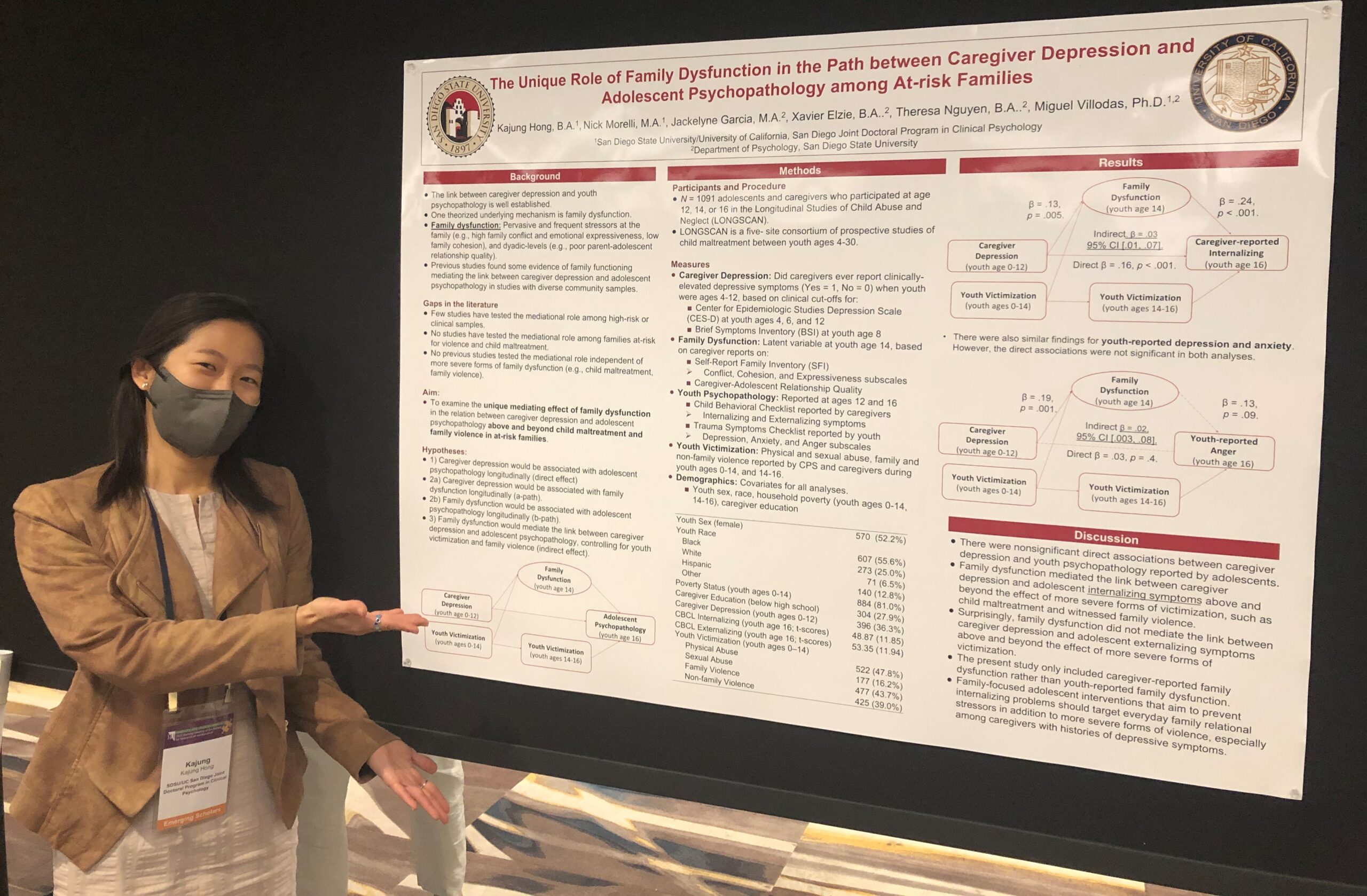 Representative Publications
Hong, K., Morelli, N. M., Garcia, J., Duong, J. B., Evans, M. C., Litrownik, A. J., Villodas, M. T. (2022). Trajectories of adolescent psychopathology among youth who were maltreated and placed in out-of-home care. Child Abuse and Neglect, 128, 105589. https://doi.org/10.1016/j.chiabu.2022.105589
Hong, K., Morelli, N. M., Garcia, J., Elzie, X., Nguyen, T., & Villodas, M. T. (2022). The unique role of family dysfunction in path between maternal depression and adolescence psychopathology among families at-risk for maltreatment. Manuscript in preparation.
Hong, K., & Villodas, M. T. (2022). Systematic review of parent-youth discrepancies in reports of exposures to community violence. Manuscript in preparation.
Villodas, M. T., Morelli, N. M., Hong, K., Duong, J., Evans, M., Elson, D., Fishbein, D., Rose, E. J., Picci, G. (2021). Differences in psychopathology during the transition to adulthood among adolescents with histories of co-occurring abuse and neglect experiences. Child Abuse and Neglect, 120. https://doi.org/10.1016/j.chiabu.2021.105189
Borelli, J. L., Hong, K., Rasmussen, H. F., & Smiley, P. A. (2017). Reflective functioning, physiological emotion reactivity, and overcontrol in mothers: Links with school-aged children's reflective functioning. Developmental Psychology, 53, 1680-1693. http://doi.org/10.1037/dev0000371

Clinical Work
A key aspect of clinical psychology doctoral training involves learning how to deliver evidence-based therapy, as well as administer and interpret evidence-based psychological assessments. Kajung's clinical work has been largely based in community psychology clinics and outpatient hospital settings that serve racially- and socioeconomically-diverse, low-functioning children and families – populations reflective of Kajung's core research interests. Thus far, Kajung has provided therapy for youth and young adults with anxiety, depression, aggression, trauma, oppositionality, ADHD, OCD, autism spectrum disorder, and psychotic disorders. The treatments Kajung delivers are generally cognitive-behavioral in nature, including traditional CBT, behavioral parent training, parent-child interaction therapy, trauma-focused CBT, CBT for psychosis, dialectical behavioral therapy, exposure and response prevention therapy, and mindfulness-based stress reduction. Kajung completed her practicum at SDSU Psychology clinic (2020-2021) and UCSD CARE Early Psychosis Center (2021-2022). She will complete her practicum at Rady Children's Hospital Outpatient Services (2022-2023).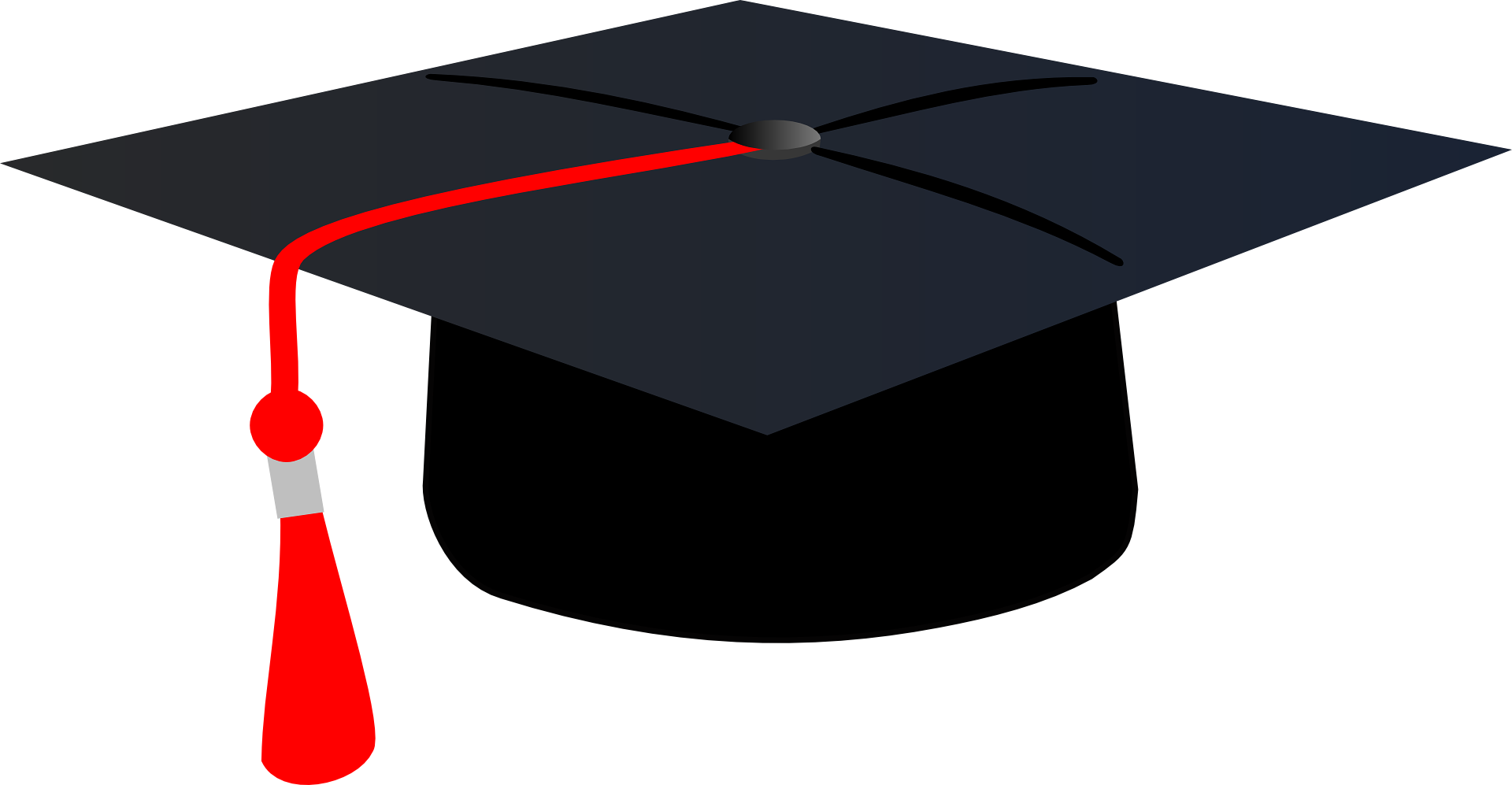 Services
As an international student who is now a first-generation immigrant, Kajung is passionate about learning about issues of justice, equity, diversity, and inclusion. She hopes to make impact and improve experiences of underrepresented students and the greater community. During her time in graduate school, Kajung has contributed to SDSU/UC San Diego Joint Doctoral Program Diversity Committee. She is a co-chair of the Justice Equity Diversity Inclusion (JEDI) Speaker Committee for diversity talk series and served as the JEDI Training Subcommittee Liaison, co-organizing online recruitment events for diverse applicants. Kajung also served as a Student Selection Committee Representative, reviewing, scoring, and interviewing applicants for acceptance into the SDSU/UCSD Joint Doctoral Program.
National Science Foundation Graduate Research Fellowships Program Recipient 2020

Awarded to outstanding graduate students in NSF-supported STEM discipline
Sigma Xi (May 2016)

Distinction awarded for accomplishments in scientific research
Hobbies
Outside of graduate school, Kajung can be found dancing (salsa, swing), singing (at home and in karaoke), camping (taking full advantage of national parks), and enjoying picnics with her best human and furry friends.